School of the Holy Spirit
Sunday at 9:30 a.m. in the Sanctuary
Do you know what God is saying to you in His word? Yes, he does speak if we will just listen. Our School of the Holy Spirit is the place to learn and hear. Our teacher is Charlotte Howard. A woman truly called of God to teach us His word in a fresh and challenging way. Join us at 9:30 on Sunday mornings. Be encouraged, be trained and be enlightened. We welcome you!
---
LIFE GROUPS
The Praise and Worship Team
Thursday at 7:00 p.m. in the Sanctuary
God has gifted our team members as musicians, and called us to lead others into His Presence through Praise and Worship.
For more information, please contact Wilma Saran at: cfcpraiseteam1@gmai.com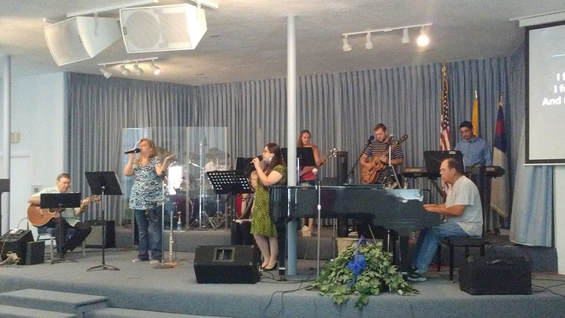 ---
 CFC Kitchen Ministry
Sunday, from 9:00 to 10:25 a.m. in the Holy Grounds Coffee Shop
The CFC Kitchen ministry wants all who enter here to feel welcome and loved. We want them to know that there is a place here for them and to feel that they have "a home" whether they are seeking a new place to worship the Lord or if they are current members of CFC. If we are successful in making, people feel welcome then they will return. Thus begins the journey that will bring them closer to the Lord and desire to become Disciples to establish His Kingdom. We will also represent the church throughout our community in events hosted by our church.
"When God's people are in need, be ready to help them. Always be eager to practice hospitality." - Romans 12:13 (NLT)
For more information, please contact Cheri Grajeda at: kitchen.ministry4cfc@gmail.com
​
****Donations are happily accepted****
---
Vertical Impact Youth Group
Sunday at 11:00 a.m.
Vertical Impact is our ministry for mid-high and high school youth, grades 6-12. It is our desire to reach out to teenagers through Bible study, music, prayer, discussions and fun, and to give them the tools to deal with their daily lives as they find and develop a strong and loving relationship with Jesus Christ.
​For more information, please contact Skip and Wilma Saran at: cfcverticalimpact@gmail.com
---
God's Warriors
Sunday at 11:00 a.m.
CFC Children's Church is for PreK – 5th Grade.
Children's Church is a place for our little ones to learn God's Word on their level through age appropriate lessons and activities. The earlier they learn Biblical principles, the more prepared they will be to become God's warriors.
For more information, please contact Tawnia Fernandez at:
godswarriorscfcabq@gmail.com
---
Andraka Life Group "Building Relationships, Building the Church"
Wednesdays at 7:00 p.m. in the Church Office
(TBA)
We strongly believe relationships are the foundation of our Christian walk. First our relationship with Christ, next with each other, and then with those around us. We also believe the Christian walk, being relationship-based, is not a one-way street. We view life group as a challenging, learning, interactive experience, rather than a lecture series. We do not hide, but share from our lives and from the Word to strengthen, encourage, and support each other. The lessons and actions in life group are anticipated to impact how you relate to others in everyday life, and lead to opportunities to build His church. We have praise and worship, an interactive lesson (facilitated discussion), and snacks each week. We also occasionally host cookouts, game nights, and other relaxing times where we can invite friends and neighbors to enjoy fellowship. We stand with our members through tough times and rejoice in the good times.
​*****Please contact church office for more information.*****

---
Manlove Life Group "How to Live By the Spirit"
2nd and 4th Friday of each Month at 6:00 p.m. to 8:00 p.m.(February 24 and March 10, 24)
Spirit-filled, spirit led, teaching and prayer.
There will be multiple teachers, as the Lord leads our life group.
There will be many times when we will simply have food, games, movies,
​and other things just to laugh, have fun and get to know one another.
​
For more information, please contact Tammy Manlove at: 505-363-1079 or TammyManloveABQ@gmail.com
---
Men Mentoring Men Life Group
1st Saturday of the Month at 9:00 a.m. in the Holy Grounds Coffee Shop
( March 3 and April 1 and May 5)
*****Breakfast is provided*****
Discipleship time. Teaching men on how to build relationships, pray, and disciple each other.
​*****Please contact church office for more information.*****

---
Beauty For Ashes
1st Saturday of the Month at 9:00 a.m. in the Church Office
(March 3 and April 1, and May 5)
We are a women's life group that will have bible study, ministry, prayer, and fellowship. We will be studying, "The Power of the Word of God". We will be learning how to apply the Word in our personal lives. We will practice using the Word in intercession.
*****Please contact church office for more information.*****